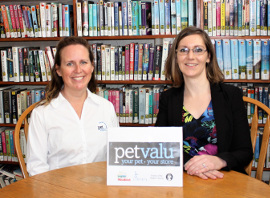 A local Meaford business has stepped forward with its own in-store campaign to support the new Meaford Public Library campaign.
During the month of April, PetValu will ask customers if they would like to donate to the new Meaford Public Library campaign.
PetValu will advertise their promotion and the library campaign will receive 100 percent of the proceeds from the initiative. At the end of the month, PetValu will present a cheque to the Meaford Public Library Fundraising Committee, which is spearheading the new library campaign.
PetValu franchise owner Susanne Dent explained that every April, PetValu holds a month-long fundraising campaign to support a local charity. The event is known as the Pet Appreciation Month Paw event.
"This year, Meaford PetValu chose to support the Meaford Public Library New Library Campaign because of how important the library is to our community," said Dent.
In addition, PetValu will host two related fundraising events – a barbeque on April 21 and a Stuffie Event on April 28, where participants can make their own stuffed animal. All profits from these two events will also go to the new library campaign.
Elaine Burns of the Meaford Public Library Fundraising Campaign notes, "It is so exciting to see a business in Meaford participate in this fundraising campaign. PetValu has always been very supportive of the Library in the past and we are thrilled by their support of the new library campaign."
Library supporters are encouraged to donate to the Library Campaign. Cheques made out to the Friends of the Meaford Library can be dropped off at the library, or you can donate online at: www.meaford.ca/newlibrary.