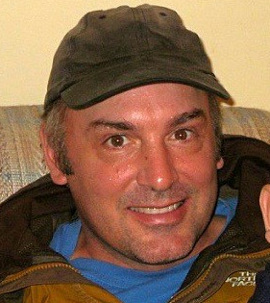 The family of a Meaford man missing since 2013 is holding out hope that someone can provide them with information to help find him.
In May of 2013, Grey County OPP announced that they were investigating a report that Meaford resident Jonathan Riley, 47, had gone missing, but his sister Judi Riley says he is still missing, and she is hoping to find him.
"Jon wrote a note at our Meaford home on April 26, 2013, that he was going to Toronto for a couple of days. He completely vanished into thin air," Judi Riley told The Independent. "He would've purchased a bus ticket at the convenience store/gas station. I'm hoping someone in Meaford saw Jon before his disappearance and would be willing to speak with me. People may hold clues and don't realize they have information that can help us."
Judi says that Jon had a sailboat at the harbour and spent summers sailing and camping in Georgian Bay. Prior to his going missing, Judi says he was looking forward to another sailing season.
Riley was described as 175 centimetres tall, weighing 100 kgs, medium build, brown hair, with brown eyes. He would now be 52 years old. It is not known what type of clothing he was wearing. He may have been heading to Hawaii, Ottawa, or Toronto.
A Facebook page has been established by the family: Facebook.com/findingJonRiley
Should you have any knowledge of Riley's whereabouts, please contact the OPP at 1-888-310-1122. Should you wish to remain anonymous, call Crime Stoppers at 1-800-222-8477 (TIPS) or send a web-tip to crimestop-gb.org. You may be eligible to receive a cash reward of up to $2,000.