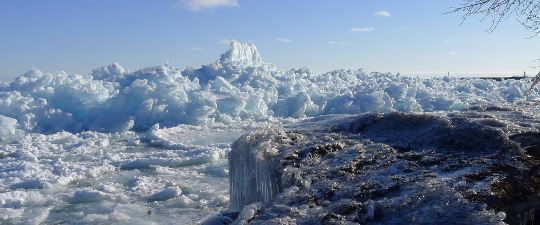 The municipality is warning Meaford residents to be cautious when exploring the ice wall formation that appeared along the shoreline last week.
"The Meaford Harbour "Blue Ice" phenomenon is truly a sight to behold, but the Municipality of Meaford would like to remind everyone to use caution and stay safe along Meaford's waterfront," said the municipality in a press release.
The ice formation, which in some areas reaches up to six meters high, formed over the weekend of March 3, and 4, along the waterfront in Meaford. Just last week the shore was completely ice free.
Meaford Fire Chief Scott Granahan reminded residents not to climb out on the ice shelf and to practice caution along the waterfront.
"The blue ice outcrops that have built up along the shores of Meaford may not be stable, and anyone who tries to stand in the area could be at risk of falling through" said Chief Granahan. "We urge everyone to take photos and enjoy the views of the ice from land, and not try to walk out onto the bay."
The Blue Ice can be viewed from the shore along Fred Raper Park in downtown Meaford.