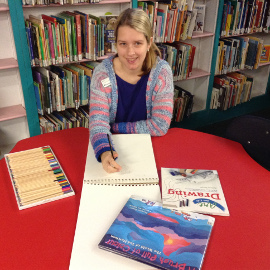 Looking for some great activities during March Break? Well, look no further than the Meaford Public Library. The Junior Library has a bunch of free programs for kids of all ages - something every day and all at no charge.
On Tuesday, March 13 at 1 p.m., the library presents Yoga with Becky. Children ages 6 to 12 can stretch, bend, and try different yoga poses. Please register in advance at the Junior Library.
On Wednesday, March 14 at 10:30 a.m., the library holds its regular drop-in Story Time for children of all ages. Then at 1 p.m. on March 14, the library will host Robyn McKenzie for a demonstration of Native teachings and drumming.
Babies will have the spotlight on Thursday, March 15 at 10:30 a.m., when the library hosts a special Baby Story Time. Wiggle, giggle, play at this drop-in event. Then at 1 p.m. on Thursday, meet a Meaford firefighter for a presentation on fire safety with activities and crafts.
Friday, March 16 is all about ART! At 1 p.m., the library presents Art with Heidi. Children ages 7 to 12 can learn to sketch and draw using pencil and paper. Then at 2 p.m., teens will have their own art workshop. All supplies will be provided for both of these sessions. No experience necessary.
So bring the kids to the Meaford Public Library this March Break. If you have any questions, please call the library at 519-538-1060 ext. 1125, email lpierce@meafordlibrary.on.ca, or go to: www.meafordlibrary.on.ca
Photo: Erica Plater, a co-op student with the Meaford Public Library, helps to organize the March Break activities.