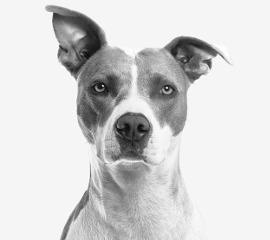 "Saving one dog will not change the world, but surely for that one dog, the world will change forever."
― Karen Davison
With a recent announcement from the Georgian Triangle Humane Society that their kennel is now full, I thought it would be a good time to talk about pet adoption.
In recent years, awareness about pet adoption has been increasing. And considering there are currently over one million dogs in Canada waiting for their forever home, this awareness is much needed.
Unfortunately, a growing trend of adopting rescue dogs from third world countries may be thwarting some of the efforts of rescues and shelters across our country. In fact, the growing popularity of adopting street dogs from places like Costa Rica and Peru contributes to the over 600,000 dogs that are euthanized in Canadian shelters because they haven't been adopted.
If you're thinking about adopting, or supporting a local rescue, please consider working with an organization that helps Canadian dogs.
One reason why pet owners decide to buy from a breeder instead of adopting from a shelter is because they want the full experience of owning a puppy. But puppies can be a lot of work! Adopting an older dog, in most cases, means you skip the not-so-favourable puppy stages, like house training. Many shelter dogs do really well with families, as well as with other dogs. Reputable shelters and rescues know their dogs well, and will work with you to ensure dogs are paired with the right family.
Despite popular belief, most dogs end up in shelters due to common issues like human allergies, divorce, moving, and not necessarily because of health or behavioural problems. Shelter dogs come in a wide range of shapes, sizes, and ages. Adopting a mature dog is an excellent fit for seniors or those who are disabled, as these dogs don't come with the demanding regimens that come with puppyhood.
Choosing to adopt from a shelter or rescue saves a life. But it also does so much more than that. It frees up much needed space and resources for the next dog needing a new home. Rescue dogs typically come fully vetted, with a clean bill of health. Dogs in need of any additional medical attention are generally addressed prior to going up for adoption. This saves the adopter hundreds, possibly thousands of dollars. Many shelters work closely with trainers and behaviour specialists who volunteer their time to make sure each dog is at their best when they find a forever home.
Adopting a dog is much more affordable than buying from a for-profit business. In fact, most adoptions range from $50 to $200, whereas buying a puppy from a breeder may start at around $500 and go over $2,500, depending on the breed.
Adopting also helps to reduce the grossly overcrowded shelter population.
If you're considering bringing a new pet into your home, please explore the wonderful world of adopting.
Remember, adopt, don't shop!
Brandon Forder – also known as The Pet Expert - is Vice President of Canadian Pet Connection, a family owned and operated business located in Meaford. He has over twenty years experience specializing in pet nutrition, behaviour and lifestyle. Canadian Pet Connection is an industry leader committed to providing their clients with the highest levels of personal, attentive service. Learn more at www.CanadianPetConnection.com.