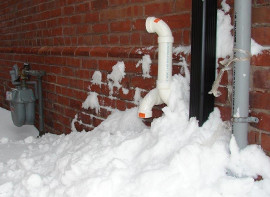 With all the snow that arrived in Meaford in recent weeks, the primary focus for most people is to ensure that their driveways are cleared of the white stuff, but there is something else to keep clear of snow that is even more important.
Natural gas vents for furnaces and fireplaces can become blocked by snowdrifts, which increases the risk of carbon monoxide accumulation within the home.
Many furnaces are designed to shut down if there is a restriction of air intake, so if you find yourself without heat one morning, the first place to check is your outside vents. But for those furnaces that don't power down when gasping for outside air, the threat of carbon monoxide poisoning becomes a possibility.
This is also the time of year to ensure that your carbon monoxide and smoke detectors are in working order.
Other safety considerations throughout the winter months include:
Cooking is a major cause of home fires, so don't leave the kitchen if there's something cooking on the stove. If a pot catches fire, don't try to move it. Cover the pot with a lid to smother the flames and turn off the burner.

If the smoke alarm activates when you're cooking, do not remove the batteries. Try moving the smoke alarm, or install an alarm with a hush feature.

Lit candles should be placed in sturdy candle holders that won't tip and are covered with a glass shade. Candles should be situated away from children, pets, and any combustible items.

Keep matches and lighters out of reach of children.

Drink responsibly and keep an eye on those who do not. Excessive alcohol consumption is a contributing factor in many residential fires.

Install working smoke alarms on every storey of the home and outside all sleeping areas. It's the law! Failure to comply with the smoke alarm law can result in a ticket for $235 or a fine of up to $50,000.