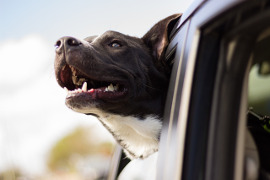 Travelling to visit friends and family over the holidays is commonplace. While many of us only take day trips, many opt to stay over with company for one or more nights. For pet owners, this also means making accommodations for our pets. Follow our tips to ensure your pet has safe travels.
Vehicle Safety
Keep Cats in a Carrier: While keeping your feline friend snuggled on your lap for a car ride may sound nice, it is extremely dangerous. In a stressful setting like travelling in a vehicle, cats can be unpredictable. Without a secure enclosure, a cat may interfere with a driver's ability to safely operate their vehicle. Place the carrier on the floor in the back seat or strapped in with a seatbelt for additional security. At times of heightened stimulation, a carrier provides a safe and calm space for a cat. Try adding a cozy blanket and a sprinkle of catnip for extra comfort.
Keep Dogs Secure: Just like cats, dogs are safest in an enclosure or with a properly-fitted vehicle safety harness. There are many options for dog crates designed to travel securely in virtually any vehicle. For small to medium dogs, a crate is most secure on the floor against a seat, or with the aid of a seatbelt.
Another popular way of safely travelling with your dog is with a vehicle safety harness. These harnesses are designed to keep dogs safely secured to a certain parts of the vehicle, usually a car seat latch or a seatbelt.
Plan Ahead
The better prepared you are for your upcoming travels, the more enjoyable the experience will be for everyone involved.
Before you bring your dog to someone else's home, you should always ask ahead for permission. Not only is it the polite thing to do, but it will give you the opportunity to clarify any rules the homeowner may have regarding pets.
Prior to hitting the road, take your pooch for an extra long walk. A tired dog is a less-stressed dog. Take breaks during the drive, too. Whether you stop to stretch your legs, or visit the bathroom, allow your dog to take time to get refreshed before heading out.
If you have a pet who may be sensitive to high levels of stimulation, it is important to make sure he has access to a safe space at all times. In busy social environments, some pets may need to take a break from the commotion and enjoy a calm and quiet space for a period of time.
Travelling during such a hectic time can be stressful for humans and pet alike. With the right preparation and a little bit of planning, travelling with pets can be quite an enjoyable experience.
Brandon Forder – also known as The Pet Expert - is Vice President of Canadian Pet Connection, a family owned and operated business located in Meaford, Ontario. He has over twenty years experience specializing in pet nutrition, behaviour and lifestyle. Canadian Pet Connection is an industry leader committed to providing their clients with the highest levels of personal, attentive service. Learn more at www.CanadianPetConnection.com.