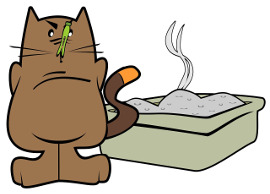 No matter how much we cat owners love our cats, the one thing we can agree on is this: we all hate cleaning the litter box!
With the holidays quickly approaching, cat owners are eager to keep embarrassing cat box odours at bay – especially when hosting family and friends.
While keeping litter boxes in a discreet area away from guests is ideal, this isn't always an option for those with limited space.
So what can scent-conscience cat owners do to effectively minimize the smell from litter boxes? There are many different tips and tricks, all with varying degrees of effectiveness. There are five tried and true tips to consider:
Use a good quality litter. There are many poorly-made cat litters on the market, but remember, when it comes to kitty litter, you get what you pay for. Premium quality cat litters are more effective at minimizing odours, especially from urine. These brands use odour- and bacteria-eliminating ingredients to provide superior odour control versus low-quality alternatives.

Scoop Often! No-brainer here. The more often the litter is scooped, the less it will smell. Automatic litter boxes are popular for cat owners, and aside from emptying the waste receptacle, they do all the work for you. Always keep scoopings in a sealed garbage receptacle that is not inside your house.

Keep it clean. Depending on how many cats you have, litter boxes should be wiped down and washed out at least twice per month. Old litter should be replaced with clean litter once per week, but that also depends on the litter used. An unclean litter box may still smell even if you use fresh litter.

Healthy Diet. Feeding a high-quality diet reduces the likeliness that your cat will produce foul-smelling feces. Frozen raw and dehydrated raw diets are most biologically appropriate for obligate carnivores like cats, however, there are many super-premium kibbles on the market that provide excellent nutrition as well.

Supplementation. Often coming in powder or liquid form, there are several supplemental options for reducing stool odour. Yucca schidigera powder is a natural and effective way of reducing waste odour by up to 25%. Other supplements may be added to your cat's food, water, or given as a treat. It is important to be consistent with dosing. The supplement won't work if it isn't consumed every day.
Follow these tips and say goodbye to litter box odours for good!
Brandon Forder – also known as The Pet Expert - is Vice President of Canadian Pet Connection, a family-owned and -operated business located in Meaford, Ontario. He has over twenty years' experience specializing in pet nutrition, behaviour, and lifestyle. Canadian Pet Connection is an industry leader committed to providing their clients with the highest levels of personal attentive service. Learn more at www.CanadianPetConnection.com.