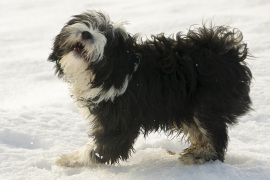 Whether you like it or not, winter is coming.
And while it's common sense to winterize things like your home, your car, or your cottage, not every pet owner thinks about preparing their pooch for the winter elements. In fact, the biggest spike in winter dog coat sales happens, year over year, after the first big snow fall. Being prepared for the temperature drop ahead of time will help your pooch handle the worst winter can bring.
Domesticated dogs, though very similar, are not the same as their wild ancestors. In fact, all of today's dogs descended from a single ancestor. Through thousands of years of selective breeding, humans have created over 400 different pure-breeds, and an infinite combination of mixed-breeds. By doing so, we have bred out some of their strongest survival features. For many breeds this includes thick, insulated fur coats, rough paws, and the instinct to huddle together for warmth. Did you know, many small breed dogs will simply stand in the cold and shiver until their owner picks them up. Not very wild at all!
So how do you prepare your pooch for the winter months?
Start by considering your dog's unique needs. A Husky, for example, may overheat in a thick winter jacket, but could benefit from paw protection, whereas a short-haired Chihuahua will benefit from both.
There are two main types of winter protection for dogs: clothing, and paw protection.
The dog apparel marketplace has exploded over the last decade. There are decorative garments like dresses, capes, and costumes, but these rarely serve a real purpose. Now, more than ever, manufacturers are offering wide varieties of functional and fashionable options for coats, ranging from light rain jackets, to heavy-duty full-bodied snowsuits. And let's not forget about scarves and hats, pyjamas, socks, and even backpacks. But, truth be told, a properly-fitted warm coat is the real necessity for most dogs. This is especially true for small-to-medium sized dogs, and most single-coated, short-haired breeds of any size.
And then there's the matter of paw protection. Road salt and chemicals from washer fluid builds up on roads and sidewalks over the course of the season, and can wreak havoc on your dog's tender tootsies. Among other things, this exposure can lead to cracking of the pads, and can cause much pain and discomfort. Oftentimes, dogs will lick these potentially harmful chemicals off their feet, which may lead to health problems.
Thankfully, there are solutions for this.
Winter boots offer complete protection from the elements. Using high-quality, modern-day materials, they are fashionable, functional, and durable. Most winter boots are insulated, waterproof, and washable. Proper fit is essential in preventing boots from coming off mid-walk, so consider trying a couple of different styles to find one that fits best.
While balms serve many beneficial purposes, they do not offer the same weather protection as boots. Best used for short walks, a balm will provide a thin protective barrier on the pads, guarding from ice and snow buildup. Balms are also ideal for after-walk treatments, preventing the feet from painful drying and cracking as a result of regular exposure to salt, chemicals, and cold dry air. Many balms can be used on the nose, too.
Bonus tip: Trim the fur in your dog's pads regularly and he will be far less likely to have issues with ice and snow buildup between his toes!
Ensuring your pooch is ready to take on everything winter brings is a breeze – if you have the right gear. Walks will be longer, warmer, and more enjoyable for everyone!
Brandon Forder – also known as The Pet Expert - is Vice President of Canadian Pet Connection, a family-owned and operated business located in Meaford. He has over twenty years experience specializing in pet nutrition, behaviour, and lifestyle. Canadian Pet Connection is an industry leader committed to providing their clients with the highest levels of personal, attentive service.