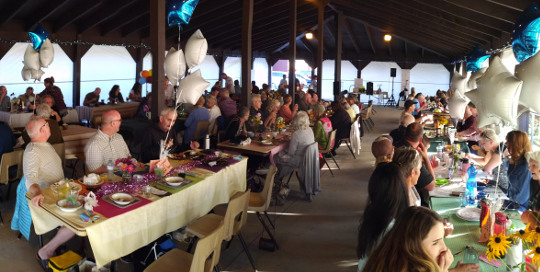 I've always been a lover of farmers' markets, and Meaford's is one of my favourites.
There's fresh produce, meats, preserves, baked goods, arts and craft vendors, live music, and Meaford Library's story time.
Last Saturday, August 26, the 4th annual Feast of Fields event was held at the Rotary Pavilion at Meaford Harbour. Billed as a vegetarian feast with the finest, freshest, locally grown produce, this year it was close to being sold out, with over 100 tickets sold. It's a local initiative, held as a fundraiser for the SMILE Animal Society and improvements and growth of the Meaford Farmers' Market.
The SMILE Animal Society is a non-profit volunteer-run group which offers temporary foster care for pets whose owners are going through a difficult time, such as experiencing illness or having to be hospitalized, leaving an abusive relationship, or dealing with the after-effects of a house fire. They provide food and medical care for the pets, and provide a much-needed service: one those invisible needs that might leave pets falling between the cracks while their 'people' cope with temporary (hopefully) difficulties.
As an eco-friendly feast, people were asked to bring their own plates, bowls, mugs and utensils. We were treated to a variety of fresh breads, two choices of soup (gazpacho and carrot ginger), two choices of salads (heirloom beets and a green mixed salad), a dollop of mashed potatoes with veggie stew on top, and corn. And, for afters, a terrific apple crumble. Almost all of the ingredients were provided by vendors at the Farmers' Market, and were either donated for the event or purchased at a modest cost. Music during the event was provided by The Browns, Chris Scerri, and Max Ramakers, all very enjoyable.
Two people at our table had just decided to become vegetarian a few weeks ago; they had seen a documentary on TV, and had decided to try going vegetarian. They told us that, even after only a few weeks, they had more energy, felt better physically, and slept better. They were very keen to have some quality vegetarian food, and hopefully be inspired to try some new recipes. Our daughter Sydney was vegetarian for quite a few years, Earl was vegetarian for a year, so we're quite used to enjoying all-veggie meals.
There were also door prizes, and a prize for best-decorated table. I have to confess, I might have gotten a little carried away with our table décor – we had vases of flowers from my garden placed inside little bags made from Meaford Independent papers, candles, laminated Meaford Independent front pages as place-mats, and cotton napkins. A very pretty table, if I say so myself, but compared to others – w-a-a-a-y over the top. Oh well, maybe we'll inspire others to add some pizzazz to their tables at next year's event. And, yes, we did win the prize for best-decorated table – a fantastic gift bag stuffed to the brim with goodies from the Farmers' Market.
A very enjoyable evening – good food, live music, and great company on a summer Saturday evening by the water.