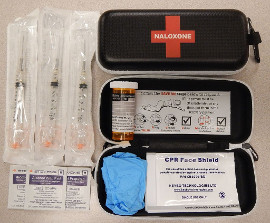 In recognition of International Overdose Awareness Day, the Grey Bruce Health Unit joins with Safe 'n Sound and the Grey Bruce Task Force on Crystal Meth and other Drugs to host a Community BBQ on Thursday, August 31, from 12 – 2 p.m. at Safe 'n Sound, 310 8th Street East, Owen Sound.
This event will bring the community together to remember the loved ones we have lost and acknowledge the grief that is felt by friends, family, and the community as a whole. The aim is to raise awareness and spread the message that the tragedy of overdose death is preventable.
Nurses from Public Health will be available to discuss and deliver Overdose Awareness Education and dispense the lifesaving drug Naloxone that can temporarily reverse opiate overdoses. The Naloxone kits are available free of charge to family, friends, and people at risk for overdose.
Over the past year, community agencies in Grey Bruce have been working together to improve systems of support for people who experience harms from substance use. A Harm Reduction Support Group operates out of the Safe n' Sound once a week. The support group provides community members an opportunity to share their experiences, ask questions, and connect with health care practitioners.
"It's important to talk about this, to make people aware so that drug use can be as safe as possible" says one group member.
The group is a partnership between HopeGreyBruce Mental Health and Addictions Services, Grey Bruce Health Unit, Grey Bruce Health Services Assertive Community Treatment (ACT) Team, and Safe 'n Sound.
For further information, call Public Health at 519-376-9420 or 1-800-263-3456 or visit the website at www.publichealthgreybruce.on.ca.