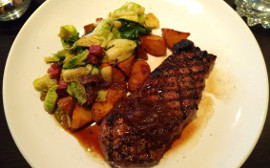 Earl and I don't normally eat out very often (it's such a hardship writing these reviews!), but we had just been on vacation and I suppose we were still in holiday mode. We decided to try Andrew's Roots Restaurant, across from Meaford Hall. I had heard good things about it, and there hadn't been a fine dining restaurant in Meaford since the late, lamented Backstreet Cafe.
Andrew Barber, the chef, is originally from Meaford and has come back to his roots, using fresh local ingredients for a casual fine dining restaurant in the heart of Meaford. The menu changes seasonally, to reflect what's fresh in the fields and farms.
I'm sure all of Meaford watched the renovations of the space, and we were all happily surprised by the uncovered original brick and that the owner decided to restore it to its former glory. As we walked in to the restaurant, we were struck by the modern décor with rustic touches – the bar and table tops were great slabs of live-edge wood, smooth and beautiful. The dining area was quite busy, even though there was no event at the Hall that night.
I ordered a Duxbury cider, my favourite of all the ciders I've tried. We settled in to our appetizers: Earl had the baby arugula salad, with julienne apple, fennel, quinoa, toasted almond, with a light vinaigrette. Before this, I hadn't been a big fan of arugula, but when I had a bite of the salad it was delicious, and I became a convert. I suppose I've previously only had ancient arugula.
My appetizer was the Green Goddess dip – grilled flatbread, with a dip of lightly mashed sweet peas with a hint of mint and goat cheese. It was very nice. The way it was presented seemed as if it was meant for sharing, which would have been a good idea as I had to leave some or I would not have had room for anything else.
For his main, Earl had the New York Strip steak, with a side of roasted fingerling potatoes, sautéed spinach, Brussels sprouts, double smoked bacon, caramelized onions, and brandy jus. As soon as I saw the menu, I knew that's what Earl would order – steak and caramelized onions, and he's in. The steak was excellent – perfectly done, tender, with great flavour. And the side veggies were really good as well.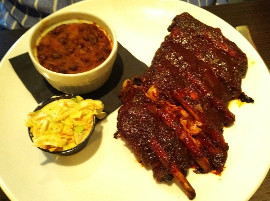 I had the smoked ribs – a half-portion, with a side of baked beans with bits of apple, and a fresh slaw. Delicious. I gave Earl two of the ribs and it was a good thing that I did, as the remaining amount was just right.
For dessert, we shared the Lavender Pot de Crème, which was a white chocolate custard with a hint of lavender, and summer berries on top. It was so good we almost had a case of duelling spoons.
Andrew's Roots is lovely – the ambiance is friendly, the food is excellent, and the portions are very generous. It might be a little high price-wise for some, but it is totally worth it. It's a great spot for lunch, a pre-show dinner, to celebrate a special occasion, or just to have a nice night out.
Andrew's Roots Restaurant
82-84 Sykes St. North
519-538-9000