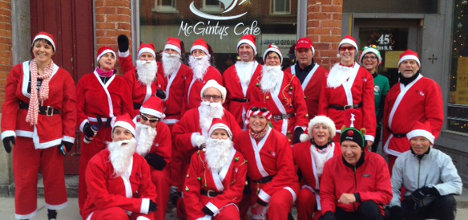 On Saturday December 20, in the early morning hours, if you happened to be on the main street of Meaford, you may have heard the tinkling of bells, and the stomping of something that may have sounded like many heavy hooves.
Those on Sykes Street at around 8 o'clock that morning would have seen many Santas and Frosty the Snowman running along the streets handing out goodies to the early morning risers.

Onward the Santas dashed to the Meaford Long Term Care Centre to spread their good cheer to the residents.
Then, after dashing back to their local watering centre at McGinty's, they propped their feet up and raised a toast to all around hoping that all had a Very Happy Holiday.
The Coyotes running club meets every Saturday morning at McGinty's for a walk, a jog, or a run. All levels welcome.