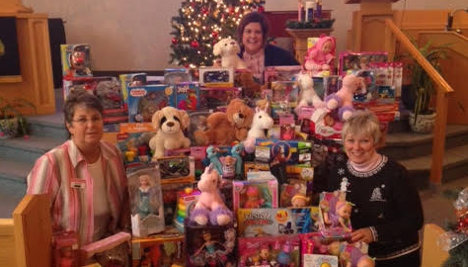 Meaford's Knox Presbyterian Church says they have been overwhelmed by the community response towards their Bargain Shop Toy Drive. 
For the second year the Bargain Shop has selected a local church to distribute the toys donated from the community.  Last year Lynn Hume, manager of the Bargain Shop, said that $1,400 worth of toys was donated.  This year the response has been over the top, with $3,000 worth of toys donated to date with a week left to go. 
"Knox thanks the community for their participation as we have been able to reach out to children in the school, local hospital Emergency Room and the Gold Town Outreach Food Bank," said the church.
Pictured in the photo from left to right is store manager Lynn Hume of the Bargain Shop, minister Rev. Anne-Marie Jones, and Clerk of Session Jennifer Pearson.