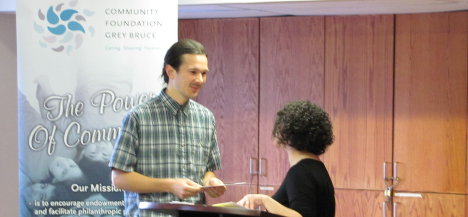 A significant grant from the Eva Leflar Donor Advised Fund through Community Foundation Grey Bruce means food and warmth for disadvantaged Grey and Bruce residents.
At a press conference on Tuesday, December 2, at Meaford Hall, Executive Director, Aly Boltman, announced that a grant totalling $44,135 will help provide food for the hungry and winter warmth initiatives for United Way of Bruce Grey, Oshare, Keystone Child Youth and Family Services, Bruce Grey Family & Child Services as well as 21 food banks in Grey and Bruce Counties.

The grant included $18,000 to United Way Grey Bruce's utilities fund, effectively eliminating the existing waiting list to help with heat and utilities for families in Grey Bruce. $9000 was donated to Owen Sound Hunger and Relief (OSHARE), funding three months worth of food.
Keystone received $1500 for blankets, sleep sacs and socks for their clients in need, while Our Kids Grey Bruce received $1000 for 400 snow suits for the area's children.
The Owen Sound and Wiarton Salvation Army Food Banks received $5500 collectively.
19 other food banks across Grey Bruce received nearly $400 each, including Meaford's Golden Town Outreach Food Bank.
The announcement came on Giving Tuesday, a national charitable giving day, and at the close of 20th anniversary of Community Foundation Grey Bruce, a public charity and important grant making organization serving charities and not-for-profit organizations in Grey and Bruce Counties. Community Foundation Grey Bruce has distributed nearly $600,000 to charities and not-for-profit organizations across both counties in 2014, making it the single largest distribution in its history.