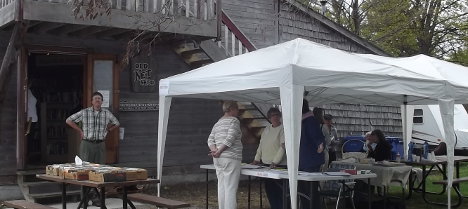 The Net Shed at the corner of Bayfield and Collingwood Streets was once a fishing net fabrication, repair, and drying facility. Today it is a popular destination for bookworms on the hunt for gently used reading material for those lazy summer afternoons.
The Net Shed has become a landmark in Meaford and many look forward each year to the opening on the Victoria Day weekend. The Net Shed opened for the season on Friday, May 15, and will be open on Saturdays and Sundays from 10 am until 4 pm during May and June, and in July and August you can also visit the Net Shed on Fridays.
The Friends of the Meaford Library organization was formed in 1993 to raise funds for the Meaford Library. Since its inception, book sales at the Net Shed, along with donations received at the Sunday Summer Concert Series, have raised over $350,000 for the library.
Volunteers are the driving force behind the Friends of the Library, and the Net Shed.
Net Shed volunteers are scheduled in teams of two for morning and afternoon shifts on Saturdays and Sundays throughout the season, as well as Friday afternoons in July and August, and holiday Mondays. These hours alone add up to 228 shifts or 684 volunteer hours, not including time spent by volunteers sorting and culling books, and maintaining the facility.