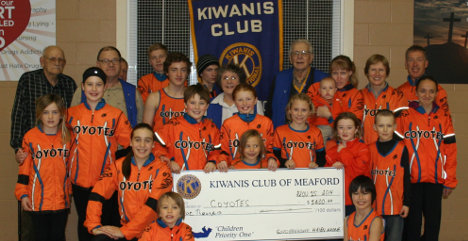 On Tuesday, November 25th, members of the Meaford Kiwanis Club made a very generous donation of $5000 to the Meaford Coyotes Track Club.
This is the third year that the Kiwanis have supported the Coyotes, with funds being used to help with race entry fees for the entire team. The membership of the team has grown to over 70 and they travel extensively to Toronto and throughout Ontario for indoor and outdoor track meets as well as cross country meets at a regional and provincial level.
The Coyotes will also be sending five members to Montreal in February for the Canadian Indoor Track and Field Championships.
"The Coyotes would like to thank the Kiwanis for their continued support of the team!" expressed team coach Kevin Hooper.