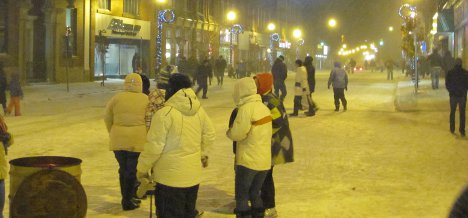 It's that time of year again. Time for downtown storefront windows to be covered with red plastic while shop owners and their staff create their displays for this year's Christmas Window Unveiling event which this year is celebrating its 25th anniversary.
This year's event will take place on Saturday, November 22, and as in the past 24 years, there will be plenty of activities and fun for young and old. Given the special anniversary, this year's theme for the Unveiling is 'Silver Bells'. Themes in previous years have included 'One Magic Christmas' in 2000, 'A Country Christmas' in 2007, 'Olympic Torch Holiday Spirit' in 2009, and 'Small Town Christmas' last year.
As in previous years, the 25th annual Christmas Window Unveiling will kick off with the arrival of Santa and the lighting of the tree outside Meaford Hall. The arrival of Santa will be followed by Klash the Clown roaming Sykes Street, and at 7:30, Vita the Fire Twirlin' Diva returns to the Window Unveiling event for another performance.
The night will also include the sounds of a Town Crier along with carol singers, and for those with some extra energy to expend, Revolve Hula Hoops will be on hand to get you moving.
For the sports-minded, the Knights of Meaford hockey club will be hosting a 'beat the goalie' competition as well as a stick handling skills demonstration, and an obstacle course. There will also be a hockey-themed scavenger hunt for young and old that will include prizes for everyone.
If the growls of hunger arrive there will be plenty of food to be found, including sampling the entries into the annual chili competition that pits business owners and local service clubs against each other for the crown of best chili. This year you will find the chili entries at the Royal LePage office.
Those planning to attend are reminded that the Golden Town Outreach Food Bank will once again be collecting donations, so bring along some non-perishable food products to help those in need this holiday season.
Pick up a copy of this week's print edition of The Meaford Independent – we've included two pages of photos of the annual Window Unveiling from years past!