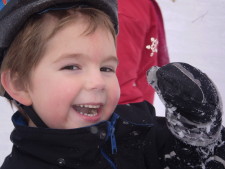 Safe n Sound is 'TOQUEing' over the area's Winter Coat Drive, as the United Way is 'diVESTing' the program to Safe n Sound.
"Hats off to the United Way for growing this program," Safe n Sound staffer Connie McKay declared.
"When Safe n Sound announced their Street Store and that they were collecting outerwear, we decided that two programs were not needed and we reached out to Safe n Sound to see if they were interested in taking over our outreach role in the local coat drive," explained United Way Executive Director Francesca Dobbyn.
The United Way of Bruce Grey has been partnering with Douglas Cleaners for the past five years to provide free winter coats to people in need in the community. Going forward, Safe n Sound will be the community partner.
"The United Way identified the need for a coat drive in the region, but partnership with a cleaner was key to making it happen. When we called Douglas Cleaners we found out they had been doing this for many years, and were in need of an 'outreach' partner," says Executive Director of the United Way Francesca Dobbyn.
Winter coats, boots, mitts and other cold weather gear were distributed to those in need earlier in November.