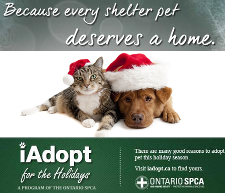 The Georgian Triangle Humane Society has partnered with the Ontario SPCA, Humane Societies, SPCAs and other animal welfare groups across the country to take part in the annual "iAdopt for the Holidays" adoption campaign.
iAdopt for the Holidays is a two-month adoption drive that aims to raise awareness about the importance of pet adoption during the holiday season, as more families bring a new pet home during this time versus any other time of the year. The campaign will run from November 1st to December 31st, with a goal of educating adopters on responsible pet ownership and getting as many animals into forever homes as possible.
"iAdopt" is a year round campaign to promote pet adoption. The campaign focuses on featuring positive real life pet adoption stories as a means to encourage others to adopt and experience a similar happy ending. iAdopt aims to educate the public about the importance of choosing pet adoption as their first option when bringing home a new family member. iAdopt for the Holidays is the sub campaign that will run during the holiday season each year.
"We are thrilled to be taking part in the iAdopt for the Holidays campaign this year," says Calla Lyon, Manager of Marketing, Communications and Resource Development, Georgian Triangle Humane Society. "Community members can make a real difference in the success of this campaign and in the lives of so many animals currently waiting for their forever home."
The iAdopt for the Holidays campaign will not only find forever homes for animals in the shelter, it will also free up space for GTHS to bring in more animals off of their waiting list. As the weather gets colder, the shelter experiences a higher volume of calls and more animals in need of assistance. To view animals who are currently up for adoption, please visit www.gths.ca.
The Georgian Triangle Humane Society (GTHS) was founded in 1999 and is a registered charity dedicated to helping animals in need. It serves the area known as the Georgian Triangle, which includes the communities of Wasaga Beach, Stayner, Creemore, Collingwood, The Blue Mountains, Thornbury, Clarksburg, Meaford and the surrounding areas. The shelter does not receive any level of government funding and operates solely on donations and money raised from fundraising efforts.