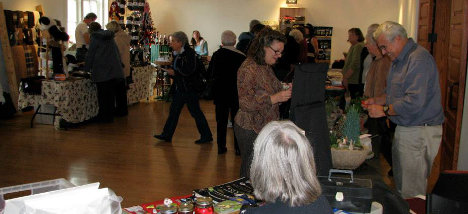 Following the great success of their last three Christmas Markets, the Meaford Farmer's Market is holding their fourth annual Christmas market at the Meaford Hall. The Market will be held on two separate days – Saturday November 29 from noon to 4 p.m. and Saturday December 6, also from noon to 4 p.m.
There will be over twenty local artisans featured, offering a huge variety of beautiful handcrafted products and local produce, including children's books, apples, honey and maple syrup, baking, fudge, coffee, preserves, knitted products, jewellery, soaps, lotions, ceramics, wreaths, and much more.
Organizers say that there will be that "perfect something" for everyone on your holiday shopping list.
"We are so pleased to be able to hold our Christmas Market again at the fabulous Meaford Hall. It is a wonderful facility to showcase all of our local artisans", says Marion Boyd, President of the Meaford Farmer's Market.
"Come in from the cold and visit the Meaford Christmas Market. You will be entertained by wonderful local musicians and have a chance to support our local community! See you there!" said Boyd.