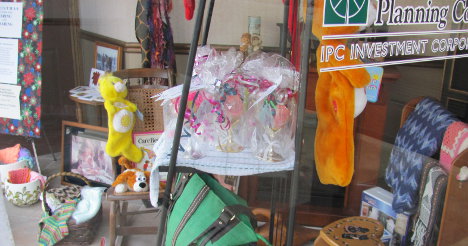 As October inches closer to November members of the Meaford Hospital Auxiliary are busy preparing for their annual bazaar, which this year will take place on Saturday November 1.
Each year, Auxiliary members make new additions to keep things interesting for pre-Christmas shoppers. Last year the newly formed Knights of Meaford hockey team joined in for a social lunch during which they donated a jersey for auction. Organizers told The Independent that there will be something equally exciting this year, though for now, their lips are sealed.
A popular feature of the annual bazaar is the baking and preserve table. Those hoping to take home some fresh baked, or preserved goods are advised to arrive early as this table sells out very early in the day. All of the baking and preserves are prepared by Auxiliary members and their families.
"The bazaar is being convened by Chris Richardson, Donna Cleary and Rhonda Willis, taking over from Norma White, who was convenor for several bazaars," Auxiliary member Maureen Strickland told The Independent. "The funds raised at the bazaar are donated to the Meaford General Hospital for the purchase of equipment."
The auxiliary members not only participate in fundraising for the Meaford General Hospital, but also provide many volunteer hours at the actual hospital.
The gift shop and the lottery service at Meaford's hospital are operated by the auxiliary members. Volunteers give their time to the physiotherapy department, reception service and clinic service as well as other areas where required. Televisions are provide free of charge to in-patients, a service 100 percent sponsored by the auxiliary.
Lunch will be offered again this year. The bazaar is to be held on Saturday, November 1, 2014 at the Church of Christ, Nelson Street in Meaford, from 9 a.m. until 1 p.m.
A display of some of the items that will be available at the bazaar has been created in the RBA Financial window at Sykes and Nelson Streets.