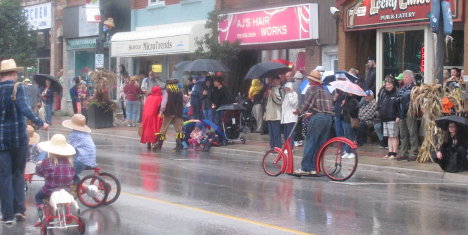 It just wouldn't be the Scarecrow Invasion without a dose of rain. The theme for this year's invasion was 'Scarecrows go to the Movies', and if there was to have been an official film of the festival, it could very well have been Singing in the Rain.
Hundreds of residents and tourists draped in rain gear or holding umbrellas lined Sykes Street on Friday, October 3 for the annual Scarecrow Parade which kicked off the 18th annual Scarecrow Invasion & Family Festival.
Those spectators withstood the chilly rain as they watched a parade that included more than 300 participants. It wasn't just festivalgoers and parade participants who needed to dry off late Friday night, as 35 volunteers, and 14 OPP and auxiliary officers helped event organizers make the soggy event shine.
As the parade wound its way to the Meaford Rotary Harbour Pavilion, the spectators followed, and they were greeted to a family festival made possible by more than 80 volunteers who were assigned tasks ranging from decorating, set-up and tear-down of stage equipment, pie and poster judging, to ensuring the little ones had fun activities throughout the evening.
In addition to all of the fun and activities, there's a competitive spirit attached to the Scarecrow Invasion, and here are this year's winners of the various competitions:
Grade 5 Poster Contest
Best Promotional - Tayah Davies, William Hoare
Most Creative - Mikayla Dubé, Jacob Dooley
Best Technical - Emily Smith, Jessica Perkins
Apple Pie Contest
First Place - Ruth Wright
Second Place – Debbie Brown
Third Place – Shirley Shortt
Business Competitions
BIA/Retail Business – Dennis Smith Memorial Trophy - Scotiabank
Runner Up – HJM Insurance
Greater Business Area – Agriculture - Almond's Farm Market
Greater Business Area – Non-Agriculture - Ormsby's Garden Centre
Runner Up – Tim Horton's
Community Service – Meaford Long Term Care Centre
Best of the Best 'Patches' – Ormsby's Garden Centre