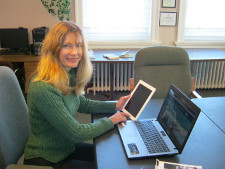 The Meaford Public Library has announced that the library was a winner in the recent OverDrive Challenge, a promotion to help raise awareness of library eBook lending across the world and boost library eBook circulation.
During the month of June 2014, Meaford Public Library's eBook circulation increased more than 25 percent over its best month so far this year. The prize for this milestone was $1,500 in free eBooks.
The following are some of the titles that the library has ordered with the winnings. These titles (eBooks and e-Audiobooks) are available exclusively to Meaford Public Library members:
Frog Music by Emma Donoghue - e-Audiobook

Heaven is for Real by Todd Burpo - e-Audiobook

Divergent by Veronica Roth - eBook

The Fault in our Stars by John Green – eBook

Flee, Fly, Flown by Janet Hepburn - eBook

The Orenda by Joseph Boyden - eBook

The Bootlegger by Clive Cussler – eBook

The Old Blue Line by J.A. Jance – eBook

Escape from Camp 14 by Blaine Harden - eBook
For more information about this contest or to find out about eBook borrowing using your library card, please contact the Meaford Public Library. The library also hosts a weekly eReader Drop-in session every Friday morning beginning at 10:30 am.