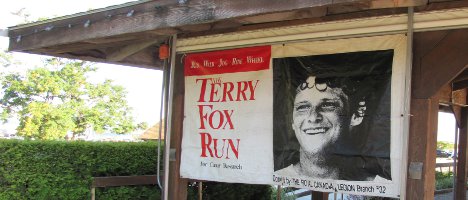 Participants in this year's Terry Fox Run were greeted with sunny weather, and a new organizing team on Sunday September 14. 17 year old GBSS student, Haley Fawcett, assumed the duties of organizing this year's run, and she was pleased with her first experience.
"I'm really happy I did this. It was a lot more work than I expected," Fawcett told The Independent.
During the days leading up to the event, Fawcett received an what she said was an exciting phone call from Terry Fox's brother Fred Fox.
"He called to wish me luck me luck," said Fawcett with a smile.
Fawcett told The Independent that her duties included promotion, fundraising, and an early morning on Sunday to set out the route markers.
Her hard work paid off. Some 68 residents participated this year, up from roughly 30 last year.
"Well it was quite a day. Her goal was 100 people and $5000. She had about 68 people, but did almost reach her goal 4994.05! This total doesn't include any on line pledges, so I am sure we are safe to say she exceeded her goal," proud mom Nancy told The Independent after the event. "We were thrilled by the people who just even dropped in with a donation and wanted to show their support."