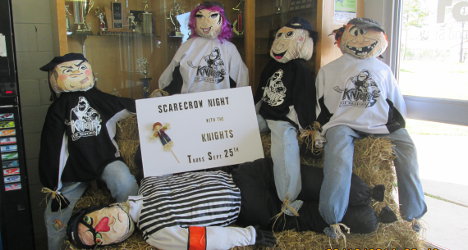 Knights might have heavy, intimidating armour, and nerves of steel, but the Knights of Meaford hockey club will soon be invaded by what some might see as an equally powerful (though perhaps more adoreable) force – scarecrows.
At their Thursday September 25 game against visiting Parry Sound, Meaford's scarecrows will celebrating, and as one might expect, there will be kazoos involved.
"I'm so pumped! It's time for the tattered sleeves and straw-filled bodies of Meaford's scarecrows to celebrate - both our 'season in the sun' & the second birthday of our home town team, The Knight's of Meaford," explained Head Scarecrow, Marilyn Morris.
Morris is asking those planning to attend the game to join in with the scarecrow celebrations by wearing straw hats and other scarecrow fashions, bring a donation for the Golden Town Outreach food bank, and be prepared to crow loudly.
"Our very own little scarecrow, Emma Wright, will sing our National Anthem," said Morris.
The Meaford Marching Scarecrow Kazoo Band will be distributing 200 kazoos to children that evening, and will teach them (perhaps at intermission) to make 'music'.
The Knight's of Meaford are playing Parry Sound on Thurs. Sept 25 at 7:30 at the arena.