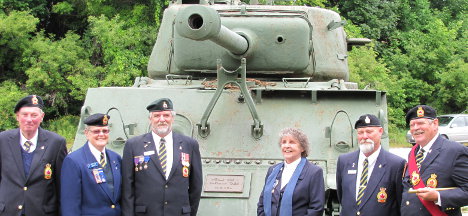 The Sherman tank that sits outside the former Meaford Legion Branch 32 building is a familiar sight to Meaford residents, but the tank will soon be heading back to its original home.
The property has now been sold, though they don't yet know who the buyer is.
The WWII era M4 Sherman tank weighs in at more than 20 tonnes, and was originally used by the Royal Canadian Dragoons, stationed at Base Borden. The tank made its way to the Meaford for use by reserve armoured regiments, before being sent to the Oshawa Regiment.
In 1972 the tank was declared surplus, and was brought to Meaford to serve as a monument outside the Legion building.
Members of the Meaford Legion Branch 32 visited the tank on September 12 for a final photo, and to say goodbye. The tank is set to be moved off the property on September 27, and for Legion members, it is a bittersweet moment.
"We're sending her home," Legion member Tony Bell told reporters, "We're sending her home."