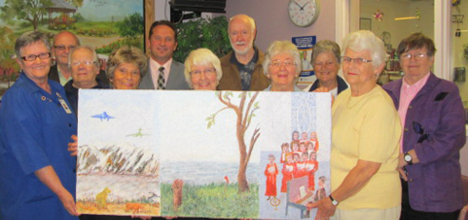 The combined choirs of the United Church and Goldenaires raised funds to honour their late Choir director Marigay Wilson. On Thursday, September 11, a ceiling tile was presented to the Meaford Hospital Auxiliary in memory of Marigay.
Eldora Taylor, member of the M.C.A.A. and a friend of Marigay's, used different interests of Marigay to arrive at themes for the tile. Using pastels, Eldora created a triptych design. The centre panel represents Marigay's home waterfront view and life at Meaford golf course. The left hand panel indicates airplanes and travel. while in the right hand panel she is conducting the Meaford United Church Choir.
At the ceremony on Thursday were her sister and brother-in-law Caroline and Ron Mills, her husband Don Wilson and son Brent. Accepting the ceiling tile was Marilyn Kipp, President of the Meaford Hospital Auxiliary and Pauline Stanley. On hand from the Goldenaries were Pat Kortland, Peggy MacDonald, Barbara Rush and Kathy Kerr. Angela Christen was there from the Meaford Creative Arts Association.