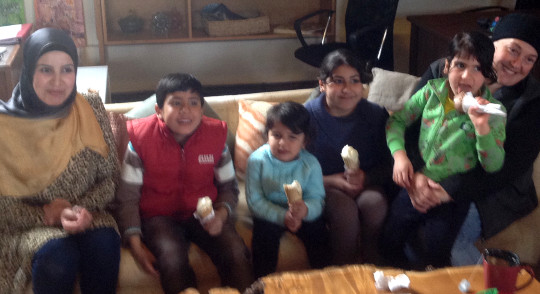 Please do not be disappointed. Suz was cleaning up Memorial Park so I had the privilege of attending the Syrian family's thank you luncheon at the Barn Co-op on Highway 26 in Meaford. Suz will be back soon.
The luncheon took place on Sunday, April 24 upstairs at The Barn, with the Meaford family preparing all the food with typical Syrian recipes. To enable this event, many benefactors donated food, tables, decorations, plates, and assorted accessories, and many of those who helped, hands on, with the family's settlement here in Meaford attended.
Clark and Barb Little were instrumental in coordinating the event. Clark even has a Google app on his phone that translates from English to Arabic and in reverse as you speak, which he finds invaluable in his work with the family.
I have to admit I approached this luncheon with some trepidation. I am not by nature an adventurous diner. However, I promised myself an open mind and more importantly an open palate.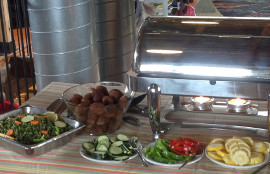 The buffet was served by Barn employees and consisted of the following:
Falafel, deep-fried balls of ground chickpeas and/or fava beans. These were a little bigger than a Timbit.

Stuffed grape leaves, traditionally served in a course called Dolmas, an appetizer course. These grape leaves were stuffed with a tomato mixture and were about the size of a sausage link. They were a lovely dark green colour.

A sauce made with kafir, chickpeas and almonds, with a dairy base.

Rice and baked chicken, both mildly seasoned.

Couscous and roasted lamb.

Tabbouleh, a salad made from tomatoes, finely chopped parsley, mint, bulgar, and onion, with the dressing being olive oil, lemon juice and salt.
The tables were set with large mason jars of water and jelly jars for drinking glasses.
Okay, how did I fare? Beautifully.
I enjoyed everything. My favourites were the couscous and lamb and the tabbouleh. The falafel tasted like ground meat only more flavourful. The grape leaves had a more pungent flavour. The chickpea and kafir sauce was an interesting flavour, soft and smooth like an alfredo sauce but with the cooked beans much the texture of a chili.
The chicken was dry rubbed with some very aromatic spices and that transferred to the rice.
The tabbouleh was by far my favourite. What a wonderful fresh, clean, tasteful salad. I am now researching how to make this.
Tickets for this event sold out quickly. However, for those of you who are thinking you might like to try some of these dishes, there was some suggestion that the family should have a stall at the farmers' market. I personally think this is a great idea.
The atmosphere was extremely positive and the family was warmly welcomed every time they made an appearance.
Meaford has a great reputation for helping its neighbours. This is a is a long-standing cultural norm for us. However, I sat across from two women who are new to Meaford. Marie Walker moved here from Nova Scotia just over a year ago and she has been working with the family as an ESL (English as a Second Language) support. Dinah Shields moved here with her husband, James Brown, only several months ago. She has had a long career as an ESL teacher in Southern California.
When asked why they volunteered to help, Marie said they felt it was the right thing to do, a proud moment for Canada and a chance to become part of the Meaford community. Dinah had been looking for a chance to utilize her skills. She is very much of the opinion that the world is too small not to look out for each other.
Both women felt they got far more out of helping than they gave. Both despaired over the refugees who are still being housed in hotels awaiting a place to settle. Both felt the Meaford family has been delighted and slightly overwhelmed by the outpouring of welcome they have received.
And the family, well, they miss their home and their families but feel they want more than anything a chance for their four children to grow up knowing freedom.
What a wonderful meal, event, inspiration we all received.
As-Salaam-Alaikum, peace be unto you.