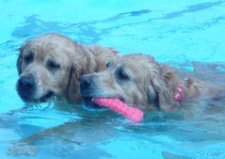 On August 30 the Blue Dolphin Pool in Meaford hosted the Second Annual Dog Dayz of Summer. Dogs of all shapes, sizes and breeds gathered together for an end of summer swim. The event was a huge success and a perfect opportunity for our canine friends to have a splash and enjoy each other's company.
The weather behaved for the day and the dogs and their humans guests took part in competitions, play, face painting and a yummy BBQ. The event ended happily, with all the dogs wagging their tails as they received a special "doggy gift bag", generously supplied by Mullin's Pet Market in Meaford.
There was an impressive doggy prize table, with prizes kindly donated by: Ardiel Animal Hospital, Bill's ValuMart, Blue Mountain Veterinary Clinic, Monika Brauer, Grey Bruce Animal Shelter, Mullin's Pet Market, Simply Unique Flowers & Gifts and Tip to Tail Grooming & Pet Sitting.
Municipal staff and BJHS volunteers estimate over 30 dogs participated in the swim and all funds raised will go towards the capital investment of constructing the Leash Free Dog Park.
A special thanks to municipal staff of the Blue Dolphin pool, who went beyond the call of duty to ensure a great day was had by all. Also a huge thank you to Monica Brauer and her innovative jump drive dog tags and pet portraits, Sharon Mansion and Larry Zalmers of the BJHS, who were relentless at organizing the prize table and other things. To Bob Pugsley for being BBQ king for the day, Viv Baker for face painting and Evelyn Dean for keeping the flow going. Thanks to all who participated in the day.
There were undoubtedly a lot of tired and sleepy dogs that evening!
Plans for next year will include special dog activities for all pets (swimmers and non swimmers) and their owners. Keep posted at www.beautifuljoe.org and www.meaford.ca