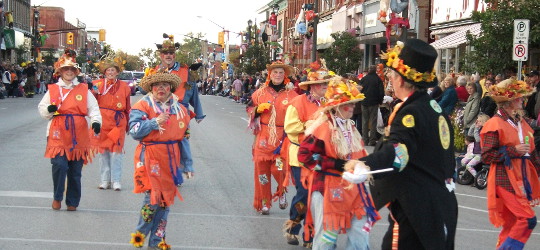 The Meaford Scarecrow Invasion and Family Festival has, for the third year in a row, been recognized as one of Ontario's top 100 festival and events.
The prestigious designation is bestowed annually to a select group, to recognize festivals and events that are important economic drivers in the province, according to the Ontario Minister of Tourism, Culture, and Sport Michael Coteau.
The Festivals and Events Ontario Top 100 is "a select group which represent some of the most well-known and respected celebrations in the province; celebrations which draw both an international and domestic audience," he said.
"Our government recognizes festivals and events as important economic drivers and we're proud to support their efforts to create jobs, grow our economy, and celebrate our diverse and vibrant cultural identity," he said. "I am pleased to join with Festival and Events Ontario in celebrating this year's Top 100 recipients and I congratulate them all for achieving this honour."
The designation is particularly significant this year as the Scarecrow Invasion and Family Festival prepares to celebrate its 20th anniversary, according to Head Scarecrow Marilyn Morris.
"It is indeed an honour to, once again, be recognized by FEO as one of the Top 100 festivals and events in the entire province," she said. "Like icing on the cake, it is especially delicious this year as Scarecrows celebrate 20 Years with Music.
"All the hard work and dedication by our hundreds of volunteers, the generosity of our sponsors, and the enthusiasm of our entire municipality is the reason why the Scarecrow Invasion and Family Festival has earned this recognition," said Morris. "Way to go Meaford! Feel the pride this distinction brings to our wonderful community. You've earned it!"
The FEO Top 100 Awards were announced on Friday, March 4, during the Festivals and Events Ontario annual conference Dare 2B Different in Markham. For a complete list of Top 100s, go to http://www.festivalsandeventsontario.ca/members/top-100