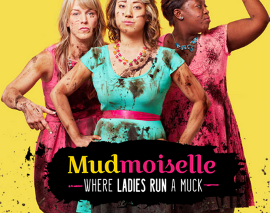 What is a Mudmoiselle? According to the event's official website, a Mudmoiselle faces every day with fierce optimism. She's not afraid to get her hands dirty – scratch that, she's not afraid to get anything dirty. And she believes that obstacles only make her stronger.
But most importantly, a Mudmoiselle wants to drag cancer through the mud.
Last September, 347 Mudmoiselles dragged cancer through the mud and raised an admirable $100,000 for the Canadian Cancer Society, to throw in the ugly disease's face. This year, the Bluewater Community Office is hoping to push the total raised to $120,000 and more Mudmoiselles taking part.
"We know now that this is something people want," Jennifer Wright, Community Fundraising Specialist with the Society says from the promotional video on Facebook. "Everybody said on event day, 'When is the next one? When can I register?' It's just been an excellent day all around for everybody."
Wright wants to let past participants, and potential new participants, know the answers to those questions: online registration is now open at mudmoiselle.ca for Saturday, September 10, 2016. Registration is $50 per person, with each participant receiving a t-shirt, a meal voucher, finisher's swag, and the chance to tackle the hill and the dirty obstacles.
"Some of the obstacles will return this year," Wright explains. "But we'll also have plenty of fresh challenges for everyone." She notes many Mudmoiselles that participated last year were requesting even more of a challenge on the former ski hill at Talisman Mountain Springs Inn. With the difficulty of these obstacles representing only a small part of a person's journey when dealing with cancer, Wright thinks it's admirable to see the enthusiasm to take on more.
"We're running for people who take on battles bigger than this every day," Wright says. "It's a small reminder of how hard we still need to work to bring this disease down."
If you are interested in taking part in Mudmoiselle in Beaver Valley 2016, please visit Mudmoiselle.ca to get all the dirty details or call 519.376.6011 for more info.