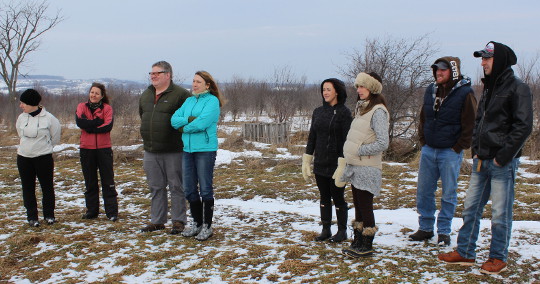 Trust an operation named Coffin Ridge to help breathe some life into February as this prolonged period of warm weather limps along until the next cold spell arrives this weekend. The local winery is doing its best to help alleviate this tedious Grey-Bruce winter by offering snowshoe tours of its vineyard.
Coffin Ridge is located near Balaclava between Owen Sound and Meaford on a property featuring a spectacular view of Georgian Bay. It was founded in 1999 after Neil and Gwen Lamont noticed a profligate abundance of wild grapes growing in the area around their new home.
That was followed, within a year or two according to the Coffin Ridge website, by a 'eureka' moment on the part of Neil, who recognized the opportunity to build one of the most unique vineyards to be seen anywhere. Fifteen years and 25 acres later, the operation has steadily grown into a boutique winery with an innovative marketing scheme that proves irresistible even in the winter months.
Mike Todd, the manager of the operation, said the desire to offer something different to the winery's customers led to the creation of weekend snowshoe and walking tours around the vineyard, followed by an "après-snowshoe" taste testing and gourmet lunch that had people raving on a recent visit.
"We started offering snowshoe tours as a different way to experience our winery/vineyard", said Todd in an email interview. "The winter tends to be slower, so there is much more opportunity for one-on-one communication. We are always looking for ways to offer our customers a great experience."
With snowshoeing being one of the faster-growing winter sports, it was a no-brainer to give the concept a try.
Nine people from around the Grey-Bruce region had turned out for the tour. Unfortunately, there wasn't enough snow to make snowshoeing a viable option, so a walking tour was in order. While several people expressed disappointment at the conditions, no one really seemed to mind the mild temperatures, although a brisk wind kept a few shivering.
Naomi Vodden of Thornbury said, "We wanted to get out and enjoy the beautiful weather and the snow. It's such a lovely way to get out with a friend and then come back and have some soup and wine and chat. It's really nice."
She laughed at the thought that it was an "après-snowshoe" event. "And the product here is really good," she added with a smile.
Vodden was meeting her friend Margot Rochester, who said, "I love this idea of the tour. My friend (Vodden) mentioned the snowshoe tour here, and I had no idea they had this, although I've been coming here to Coffin Ridge for a very long time."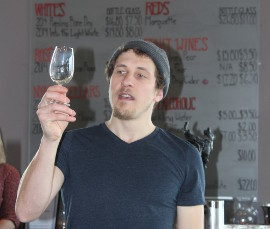 The vineyard's existence is made possible by the same ecological conditions that make it possible to grow apples in the Beaver Valley Region. Georgian Bay's influence is strong enough to moderate the climate, making it almost a Maritime system, said Joel Loughead, who led the tour.
The grapes grown by Coffin Ridge are carefully selected cold-resistant varieties that have weathered even the extreme cold of the last couple of winters without a blink.
The only similar tour in the region is found at another site near Collingwood, where Free Spirit Tours offer a snowshoe outing followed by a visit to a vineyard. Loughead said that makes it different from what Coffin Ridge offers, which is focused on the vineyard itself.
"The walking tour lasts about 40 minutes around our entire 25-acre vineyard," Todd said. "Then the customer can come inside and warm up by the fire, do a wine tasting, select their favorite and have a glass. Lastly, just relax, enjoy the view and the soup and cheese plate."
John Bak of Listowel raved about the lunch in particular, which featured a savoury lentil soup with curry, three kinds of cheese, and artisanal bread.
The walking/snowshoeing tours take place every Saturday and Sunday through March, depending on the snow and weather.