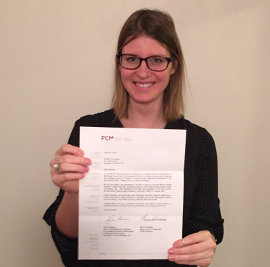 The Federation of Canadian Municipalities (FCM) has recognized one of Meaford's own with a national award. Kaisha Thompson is the winner of the FCM's 2015 Mayor Andrée P. Boucher Memorial Scholarship. This scholarship recognizes female students currently enrolled in undergraduate or graduate studies who contribute to women in politics. The award is issued in honour of former Mayor Andrée P. Boucher, of Quebec City, who was a leader in Canadian municipal politics and a role model to women.
Thompson, like Boucher, is a passionate advocate for more women in politics. She has taken on a range of roles in campaigns with female candidates, including local Liberal candidates Kimberley Love and Ellen Anderson.
The scholarship is chosen based on the submission of an essay focused on women in politics. Thompson's paper addressed the ambition gap, a theory that discusses why more women do not enter politics.
"As someone that's always been interested in politics, I wanted to focus on why other women avoid it. I started working in politics when I was at Georgian Bay Secondary School. It's been an important part of my life and, whenever possible, I encourage other women to consider getting involved," said Thompson.
Thompson herself was a candidate for an elected position in 2014. She was elected to a two-year term as Treasurer of the Liberal Party of Canada (Ontario) at their Annual General Meeting in Markham. Her election made her the youngest person in the organization's history to sit on the executive.
Meaford's council recognized Thompson's achievement at their January 18 council meeting. Councillor Jaden Calvert attended high school with Thompson, and they have known each other for twenty years.
"I knew from a young age that Kaisha was going to do great things in this world. I am deeply proud of Kaisha for receiving this award for her contributions in politics and for empowering more women to get involved in politics," said Calvert.
Thompson is currently studying law at Queen's University. The city of Kingston will also be recognizing her award at their council meeting on January 26.