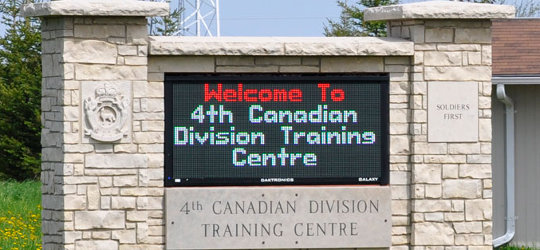 Plans to temporarily host possibly hundreds of Syrians at Canadian Forces Base Meaford are in limbo at the moment.
Captain Paul Stokes, a representative from the base, directed all inquiries on the situation to Ottawa representatives.
"The situation is very fluid right now, and I want you to have the best information available," he said via telephone January 12.
Captain Carrie Pluck, a Public Affairs Officer with the Joint Task Force 's 4th Canadian Division, provided a further brief update via email.
"The Meaford Training Centre remains one of six CAF ILS locations, there are no current plans to have new Permanent Residents housed at the base in the coming days," she said. "They are prepared and continue to be prepared however there are no plans for Meaford to be expecting any in the coming days."
Pluck didn't provide more details, and directed further questions to Immigration, Refugees and Citizenship Canada.
The refugees were to be housed temporarily in tent-like structures called weather houses at the base once they arrived. The structures are fully winterized units often used by soldiers in northern climates.
"Plans for providing interim lodging for refugees upon arrival in Canada are still being refined. Nonetheless, the CAF is ready to provide interim lodging and other supporting tasks as part of a flexible and successful Government of Canada effort," Pluck said.
Several Canadian Forces bases, including CFB Borden, were among those preparing to possibly host the refugees temporarily, as the federal government works to carry out its promise to resettle 25,000 people from Syria from last fall's elections.
The process has been slowed by logistical difficulties, as well as the need to find and screen Syrians who are willing to come to Canada.