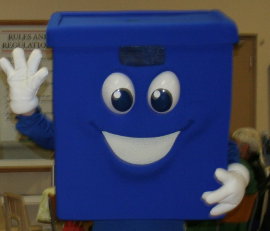 Our lawns may be freshly layered in snow, and many of us might be settling in to keep as warm as possible for the remainder of the winter months, but Meaford's Earth Week team is already looking toward Spring as they prepare for their third annual Earth Week celebrations.
Earth Week will be celebrated throughout the municipality between April 17 and April 25 this year, and the team is hoping to partner with other organizations in the municipality interested in hosting 'Earth-friendly' events.
"If you or your group would be interested in hosting an 'Earth Friendly' event during this week, either a film showing, a lecture, or whatever else you may like to plan, please contact Amber Knottprior to February 1 so that your event can be included in the Earth Week brochure," said the municipality in a press release issued Monday, January 11.
The popular RE-Use & ECO-Fair will return for another year at the Meaford & St. Vincent Community Centre on Saturday, April 23 from 9 am until 3 pm.
The event, which was heavily attended last year, collected a total of 1,791 pounds of goods which were transferred out of local homes and businesses and into the hands of 14 community groups which had compiled a wish-list of items their organizations needed in advance of the event.
If your organization is interested in submitting a 'wish list' for this year's RE-Use Fair, you can visit: www.meaford.ca/earthweek to obtain the submission form, or contact Lindy Iversen by phone (519-538-0167) for further information. If you would be interested in volunteering during the RE-Use Fair this year, you may also contact Lindy.
The ECO-Fair will once again showcase eco-friendly products and services available from local businesses and organizations.
Those interested in participating in the ECO-Fair as a vendor, or to showcase your eco-friendly goods or services, you can find the application form on the previously mentioned website. Applications are due by April 1. Space will be granted on a first come, first served basis.