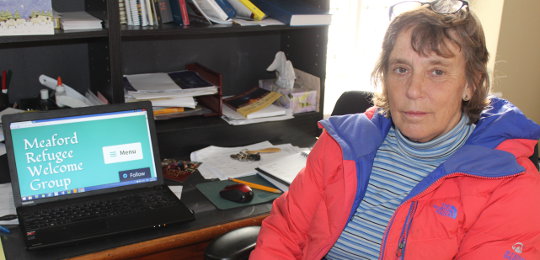 Meaford residents will have to wait at least a little longer to meet the Syrian family being sponsored by the Meaford Refugee Welcome Group.
Cathy Miller, the pastor at Christ Anglican Church, and one of the main organizers of the group, said the family of six has been selected, and they have indicated they are willing to move to Canada, but the approval process and paperwork is an arduous one.
"They've said they wanted to come. We chose them and they agreed."
That's why she's not expecting the family to arrive until late February at the earliest.
"I think we and likely every other group across Canada, are a little frustrated because we don't know anything around timing," Miller said. "I think we feel fairly confident that our family will come before the end of February, but there's no reason for that confidence other than what we hear in reports."
Luckily, that leaves the group, with about 100 members, the time to locate proper permanent housing for the family and to make sure everything else is ready to go.
"We have temporary housing arranged right now," Miller said. "It's a private home, but we don't want to say where it is for privacy reasons."
The group is looking for a three-bedroom rental unit for the family to move into, but those are hard to come by locally.
"But we're working on it."
The group has also lined up some people in Meaford who speak Arabic to help with translation when the family arrives.
Miller said she and the other group members don't know much about the family, except that it's a couple with four children.
"I don't believe any of them speak English," she said. "They have four small children under nine."
The group formed in recent months in response to a "concern about the refugee situation in Syria, Miller said.
"I think a lot of people in Canada were really concerned about the former government's refugee policy," she added. "From there we just kind of took off. We're using the Anglican church as the official sponsor just because it makes the process much smoother."
The private sponsorship is a parallel process to Prime Minister Justin Trudeau's promise to bring 25,000 refugees to Canada from Syria, Miller explained.
"I think sponsored refugees have a little more emotional support than government-sponsored refugees, because there's a whole group of people to help them. When you have that kind of community support and involvement, I think the odds of helping the family to be integrated into the community are better."
The group has raised approximately $30,000 so far for the family's needs, Miller said, with the federal government expected to provide another $15,000.
Those funds will go to support the family for the mandatory one-year period demanded of sponsors by government policy.
Miller said there's no guarantee of how long the family might wind up living in Meaford following that first year in Canada.
She's also a bit concerned about the economic and job situation here in Meaford, which "isn't the best at the moment".