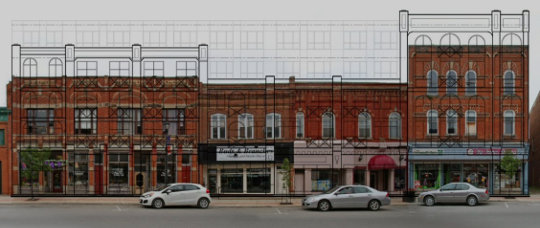 The Meaford branch of the Architectural Conservancy of Ontario is taking the developer of a proposed demolition and rebuilding of a block of downtown buildings before the Ontario Municipal Board in hopes of preserving the building façades.
John Kerr, a representative for the ACO Meaford, told The Independent in a phone interview this week that the five day hearing, which will take place in Meaford's council chamber beginning on February 29, could cost the organization as much as $20,000, and they are hoping that Meaford residents concerned about the future of those downtown buildings will chip in to help with the costs. They have set up a donation button on their website (heritagemeaford.com/donate) for those wishing to help fund their costs for the hearing.
Kerr also told The Independent that the OMB hearing could be prevented if the developer would sit down with his group to update them on his plans for the properties.
The core of Meaford's downtown business area could look very different if the proposed redevelopment of buildings located at 35 to 47 Sykes Street is implemented. The proposed re-development would include underground parking, street level retail space, and dozens of residential units.
In an interview earlier this year, the developer, Lino Toncic, told The Independent that while it would be nice to fully preserve the building façades in order to maintain the historic charm of the downtown core, it would also be expensive.
"It's not economically viable. You can pull bricks right off of those buildings. It's great to say we should save them, but someone about fifty years ago should have spent a little bit of money and a little bit of time to do it. That was the time to do it. Once you've let it go beyond a certain point, it's next to impossible," Toncic told The Independent before presenting his vision to a full house at Meaford Hall in February.
At that same public meeting David Baker, also a representative of ACO Meaford, told The Independent that his group isn't against development, but they would like to see one of Meaford's tourist draws – its historic downtown buildings preserved as much as possible.
"We're concerned about losing the original, unique, 130 year old-brick façades. We've been in some of those buildings over the years, and there have always been issues, and it's very hard to bring them up to fire code, and we know that, but there's a movement afoot called "façadism", and in Vancouver it's really been the fallback position of the heritage committees. When you have a developer that's interested in your town, you don't want to disregard the proposal, but we really would like the façades saved," explained Baker.
While some residents have expressed concern about preserving the historic façades, others worry that once the buildings are demolished the properties could sit empty for an extended period of time, driving away shoppers and tourists.
Meaford's council has been supportive of the developer's proposal, as has the municipal heritage advisory committee, including his request to allow for the increased building height required based on his initial plans presented to council. Council was unanimous in their approval of the increased allowable height for the new buildings that will be constructed on the properties, and all members of council have spoken in favour of the proposed development at several council meetings.