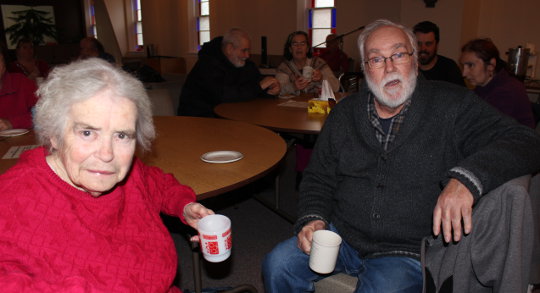 Every community needs at least one good gathering spot, and when it's free, chances are it's even more appealing.
That seems to be the case with the Community Cafe sponsored by the Golden Town Outreach Monday mornings at the Church of the Nazarene.
Since it opened back in September, it's gathered a loyal following of more than 20 people and it's still growing as word of mouth spreads.
The church and the Outreach organization were bustling on December 7 as people gathered at the cafe. There were also people delivering food to the food bank, some checking out the free clothing, and others gathered for the food bank itself.
"We wanted a place just for people to come in and have a coffee and socialize," Outreach chair Lorene Taylor explained. "It's something that a lot of outreaches have started, and we thought it would be really nice to do."
"Our numbers are growing and sometimes we have other activities such as crafts," she added. "We have some regulars, and people come and go. Not everyone who comes here is our client by any means."
The coffee and snacks are courtesy of donations, Taylor added, and the cafe is breaking even so far.
One of those regulars is Wayne Kitchener.
"I'm here pretty much every week. I like the fellowship here, you know. This is a good idea. They treat us good here, there are refreshments and coffee and tea."
"It's nice to see the church (helping) to do this," he added. "This church does an awful lot out in the community, which is pretty nice."
He brought Barbara Lougheed, a fellow bible studies student, to the cafe for the first time on December 7.
She said that even a few minutes after a short visit, she was planning on returning.
"I've known a lot of these people quite a while," she added.
Pastor Leigh Straiton, who is the co-pastor at the church with his wife Joyce, was one of those enthusiastic to offer the cafe.
"It's an extension of what we've been doing here," he said. "We had three major goals when we took over here (at the church), and we wanted to create a peaceful place, we wanted the church to become a known place in the community, and we've now become a reference point."
"The third goal was to extend the church from the wall of this building into the community," Straiton added. "We've had a wonderful rapport with the food bank, and we've been making (the church) available to the community, and it's available to basically any organization in the community. We have the space, so why not use it."
Straiton said the cafe is by no means an extension of the church, although he's done some informal counselling occasionally. "It's becoming a community event," he said with a smile.