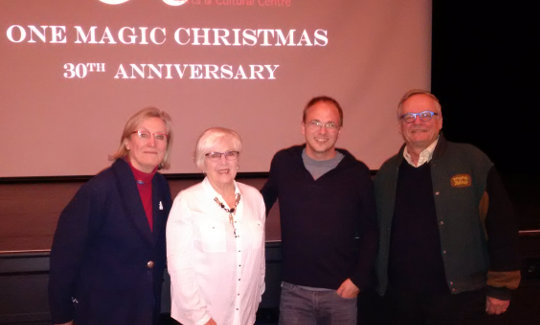 With the annual holiday season performance by the Kids in the Meaford Hall, a special 30 year anniversary screening of the film One Magic Christmas, the annual Santa Claus parade, and a special Christmas market hosted by the Meaford Farmers' Market, Meaford was bursting with festive spirit over the weekend of December 4-6.
After performing for Meaford elementary school children, the Kids in the Meaford Hall (KITMH) brought Aladdin's Wonderful Lamp to life on the Meaford Hall stage on Friday, December 4. The KITMH have alternated each year between a Christmas story and a folk or fairy tale for their seasonal performance. The annual Christmas season production by the KITMH has continued to provide free admission to kids under the age of 12 as a special holiday gift to the community, and while previous years have seen weather-related setbacks, this yearit was smooth sailing for the local community group.
On Saturday afternoon the seats in the Meaford Hall opera house were once again filled as the community turned out to see a special 30 year anniversary screening of the Disney Christmas film One Magic Christmas, which was filmed primarily in Meaford and Owen Sound.
Prior to the feature film, a locally produced short documentary of the making of One Magic Christmas was screened for the first time. The documentary, which is now available online (link provided at the end of this article), interviewed cast members, along with community members who shared their memories of the filming of the movie.
Among those in attendance for the Saturday afternoon screening were the film's producer, Peter O'Brian, and Rob Magwood, who played Cal Grainger in the film.
Both the documentary and the feature film concluded with boisterous applause from the nearly full house at Meaford Hall's opera house.
While at the Hall, patrons were able to take in the Meaford Farmers' Market's annual holiday season market in the Meaford Hall galleries. Locally produced food products along with arts and craftswith a special emphasis on the holiday season were on display and ready for purchase for that someone special on your list.
In case residents weren't yet feeling the holiday spirit, Santa Claus made a return visit to the community as part of the annual Santa Claus parade. Hundreds of residents lined Sykes Street on Saturday evening to catch a glimpse of the sparkling floats created by several local community groups and businesses.
With all of the holiday season activities taking place over the last weekend, it was certainly one magic weekend in Meaford.
To view the documentary about the making of One Magic Christmas, visit: https://www.youtube.com/watch?v=52xHanr4hj8&feature=youtu.be