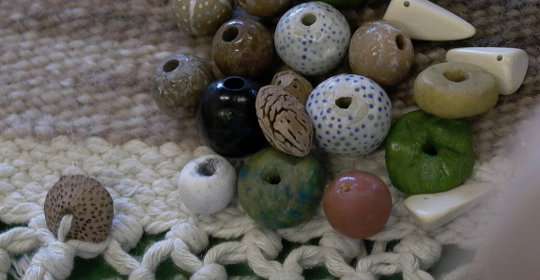 The L.E. Shore Memorial Library and the Arts Advisory Council are presenting The Year of the Craft, an exhibit featuring 24 high-calibre makers from the Grey Bruce Region.
A one-of-a-kind artisan demonstration day will be taking place on Saturday, December 5, from 11:00 am - 3:00 pm to celebrate the opening of this unique show.
The show will feature ceramics, blown glassware, violin makers, woven willow and grapevines, woodworking, bookbinding, jewellery, welding, weaving, quilt making, iron work, and beading.
The demonstrating artists are featured in Backroad Craft: Fine Craft in Grey & Bruce Counties, a portfolio book written and photographed by Becky Comber, Kate Civiero, and Heather Hughes. This collaborative effort was created to showcase the thriving arts culture in our area and to highlight the signature aesthetics of our region.
The Year of the Craft will be exhibiting from December 1 - 31 during regular library hours. The L.E. Shore Library is open seven days a week: Monday, Wednesday, Friday, and Saturday from 10:00-5:00pm, Tuesday and Thursday from 10:00-8:00pm, and Sunday from 12:00-4:00pm. For more information about this exhibit contact the L.E. Shore Memorial Library in Thornbury at 519-599-3681. Visit: www.thebluemountainslibrary.ca.
The L.E. Shore Memorial Library Gallery in Thornbury is a beautiful, vaulted exhibition space that hosts monthly exhibits by both individuals and groups. Exhibit proposals are reviewed and selected by the Arts Advisory Council and are always welcome.