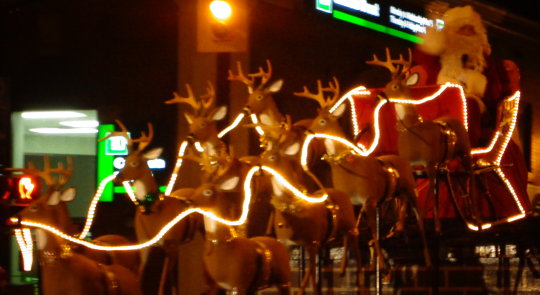 For the second time in as many weeks Santa Claus is coming to town.
Having made a special stop on Meaford on November 21 for the BIA Window Unveiling, the jolly old fellow returns on the evening of Saturday December 5, when the Kinsmen Club of Meaford present their annual Santa Claus Parade.
The parade is made possible by the hard work of several Kinsmen volunteers who help coordinate the numerous businesses and service clubs that participate in the parade.
The fun begins around 6:30 when the floats will make their way down the Sykes Street hill toward the downtown core where hundreds of spectators will be awaiting the colourful display of colour and lights.
The final float will of course be the jolly man himself who will be guided by his trusty reindeer.
With the street and shops decorated with festive flair, and Santa having made his annual pre-Christmas visits, it will certainly be time to start hitting the local shops to purchase up gifts, or to stock up on holiday treats.