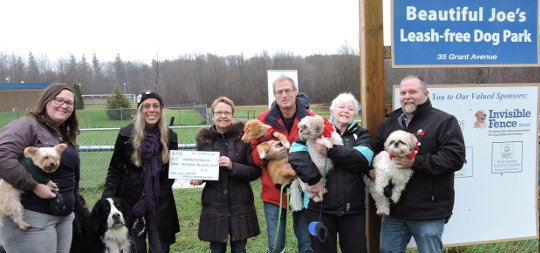 For the second time this year, the Beautiful Joe Heritage Society has presented a cheque to the Municipality of Meaford toward the repayment of their share of the cost for the creation of Beautiful Joe's Leash-free Dog Park on Grant Avenue in Meaford.
They are now over half way to their goal, but still need to raise another $4400, the organization says.
"BJHS would like to thank the community for their help in raising funds for the park through donations and support at various local events in 2015 including Dog Lovers Days, Blessing of the Animals, and the recent Meaford Window unveiling," said the BJHS.
In September of 2012, council was told that the estimated cost for the project would be $20,000, with the Beautiful Joe Heritage Society (BJHS) contributing half of the funding, and the municipality contributing the other half. In order to get the project moving forward, the municipality fronted the full cost, and the BJHS agreed to repay their share.
Costs to establish the facility included $16,500 for perimeter fencing and gates, $2,000 to develop a parking area, $1,000 for signage and garbage cans, and $500 for a watering area for the dogs using the park.
The BJHS agreed to repay their $10,000 share to the municipality within five years. The park officially opened in August of 2013.
Their "Tricks For Joe" social media campaign continues to draw attention to Meaford and the legacy of Beautiful Joe.
In addition to standard fundraising tactics, the BJHS has been creative with some of their fundraising initiatives including Tricks For Joe. For a $20 donation, BJHS volunteers will pay you a visit and film a video of your pet doing a trick. The videos will then be posted on their Facebook page.
You can learn more about "Tricks for Joe" and other ways to contribute to the BJHS fundraising campaign by visiting Joe at www.beautifuljoe.org.