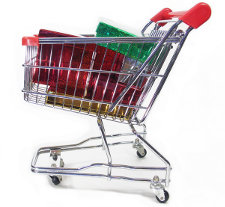 With the Christmas holiday shopping season well underway, Grey County Ontario Provincial Police (OPP) suggest there are a number of ways to ensure that your purchases make it under the Christmas tree and not into the hands of an opportunistic thief.
Some crime prevention tips for consumers to ensure their safety and security:
Keep wallets and purses safely secured on your person at all times.

Don't carry large amounts of currency. Use debit and credit cards and remember to always protect and shield your PIN number.

If using cash, only obtain it from recognized financial institution banking machines and not stand alone ATMs, as many of the stand-alone units are known to be targets of various card skimming devices.

Don't carry large amounts of gifts. Take them to your car and secure them in a trunk or in the case of sport utility vehicles or pick-up trucks, place them on the floor and cover them with a blanket.

Always make sure your vehicle is locked.
When it comes to parking your vehicle, an unlocked door or an open window is an invitation to thieves. The OPP "Lock It or Lose It" program vehicle security audit reminds drivers to always:
Park your vehicle in a well-lit area;

Roll up the vehicle's windows;

Keep valuables out of sight;

Lock the doors and pocket the keys.
"Please do your part in making this year's holiday shopping season a safe and memorable experience and remember crime is preventable," advised the OPP.