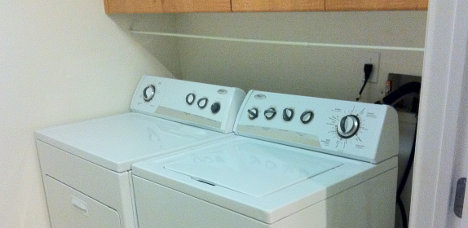 In March 2013, a fatal fire in East Gwillimbury, Ontario claimed the lives of four family members. The cause of the fire was determined to be a clothes dryer that was not installed or maintained as per the dryer manufacturer's instructions.
Meaford's fire department has offered some safety tips for homeowners regarding clothes dryers.
Fire Safety Tips for Clothes Dryers:
Have dryers installed by a professional.

If you are installing your own dryer, follow the manufacturer's instructions.

Determine the straightest and most direct venting path to the outdoors to reduce the likelihood of lint accumulation in the bends or elbows.

Use rigid or flexible metal ducting for venting to the outdoors. Plastic or metal foil ducts are more prone to kinking, sagging and crushing which leads to lint build-up. Plastic ducting is also more prone to ignition and melting.

Closes dryers located in closet-type spaces or totally enclosed rooms should have sufficient incoming air for proper operation.
Always:
Always inspect and clean the lint screen after each load of laundry. Build up of lint can lead to a fire.

Regularly ensure the vent flap opens when the dryer is operating.

Turn off the dryer if you leave home or when you go to bed.

Ensure there are working smoke alarms on every storey of the home and outside of all sleeping areas for early detection of fire.

Practice your home escape plan with 2 ways out of every room in case one is blocked
Protect your family with a safe dryer, early detection and a plan to escape!