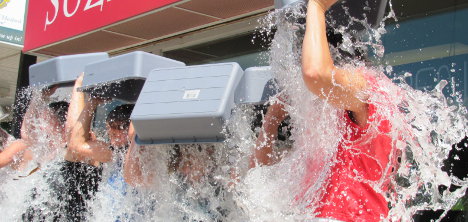 A local restaurant joined in on the ALS Ice Bucket Challenge that has been sweeping across the country, and the restaurant staff have a ten year-old boy to thank for their chilly experience.
On Monday, August 25, the staff of Suzie's Place gathered in front of their Sykes Street restaurant to pour buckets of ice water over their heads in support of the ALS initiative.
"I nominated the Suzie's Place staff, and my grandparents," ten year-old Quinton Armitage told The Independent. "They seem like people that would do it. I'm hoping they're going to freak out."
Though he attempted, Quinton could not conceal the huge smile on his face, due to the fact that his mother, Amanda, is part of the family business that is Suzie's Place, and he was looking forward to watching his mother douse herself with ice water.
"I want to wish them good luck, and I hope I'm not grounded," laughed Quinton, who added that the high profile of the ALS campaign has taught him about a disease he had previously had never heard of. "I've learned that it's a very serious disease that shuts down your whole body, and it's horrible."
ALS (Amyotrophic Lateral Sclerosis),also commonly known as Lou Gehrig's disease in North America, is a neuro-degenerative disease that is characterized by muscle spasticity, rapidly progressive weakness due to muscle atrophy, and difficulty in speaking, swallowing, and breathing. ALS is the most common of the five motor neuron diseases.
Most who suffer from the disease have an average survival time of three to five years, and only an estimated four percent survive longer than ten years.
Another participant in the event was Quinton's sister Mya, who wanted to address one of the recent criticisms of the ALS Ice Bucket Challenge – the wasting of water. Mya told The Independent that Suzie's Place restaurant recycles the run-off water from their air conditioning unit to water their gardens, and they used that same recycled water for the challenge.
Before pouring the icewater-filled buckets over their heads, each participant nominated others to take up the challenge including some local businesses. The Meaford Independent, Ted's Range Road Diner, the Knights' of Meaford hockey team, Muxlow Pharmacy, and the entire staff of Miller Waste was challenged by the Suzie's Place staff to take on the challenge.
Nearly $1.5 million has been raised across Canada for the ALS initiative. In the United States the initiative has raised more than $50 million.
Donations can be made at Suzie's Place restaurant, where more than $100 had already been collected in the two hours prior to the challenge.