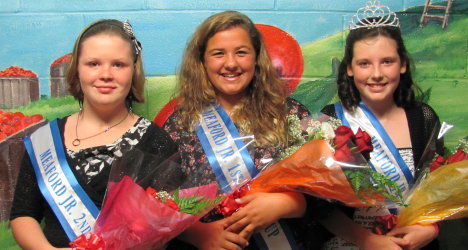 The Junior Ambassador for the 159 th Meaford & St. Vincent Fall Fair was selected on Wednesday August 27 at a special dinner held at the community centre.
Three contestants were hoping to capture the title that for the last year has been held by Kadin Johnson. Mikaela Adams, Claire Richardson, and Sarah Storrey all impressed the judges with their speeches expressing their desire to be crowned Junior Ambassador, and their love for their community, and for the Fall Fair.
The judges selected Mikaela Adams to be this year's Junior Ambassador, with first runner-up going to Claire Richardson, and second runner-up was Sarah Storrey.
After the winner was announced, Mikaela told The Independent that she was excited to have been selected.
"I have been pretty excited about it for a while," said 14 year old Mikaela who said that for her, the most difficult part of the evening was giving her speech in front of nearly 200 people.
While Claire Richardson and Sarah Storrey didn't manage to capture the Junior Ambassador sash, both were thrilled with having been a part of the event.
"I am so excited, and I am so happy!" beamed Claire Richardson who said that she has been preparing all summer for the event.
Claire and Sarah both said that the most exciting and the most difficult part of the event was getting up on stage to deliver their speeches.
The new Junior Ambassador will be put to work in her new duties this weekend as the 159 th Meaford & St. Vincent Fall Fair takes place at the fair grounds beside the curling club.