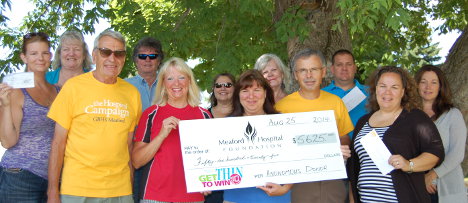 In late January of this year a forward thinking Meaford resident came up with an idea – the anonymous individual offered to pay $10 per pound in a four month Weight Loss Fundraiser, and match the total dollars paid to the participants as a generous donation to the Meaford Hospital Foundation.
The secret donor's wish was to help encourage fitness and a healthy lifestyle within the community, while at the same time supporting the Meaford Hospital Foundation and the Grey Bruce Health Services (GBHS) current major Hospital Campaign.
On March 21, 2014 fifty first come - first served participants arrived at the Meaford Hospital Foundation Office for their initial weigh in. With weekly results emailed to the Foundation Office and a couple of Education Seminars facilitated by the Hospital's dietician and nurse educator the enthusiastic team started actively exercising and losing weight.
As one participant put it "I'm being paid to lose weight! Really!? Now that's what I call a motivator!"
On July 31 the participants returned to the Foundation Office for their final weigh-in, registering a total of 562.5 lbs lost! – and delivered many wonderful stories and testimonials on how the experience had helped them start some very positive healthy changes in their eating habits and exercise routine.
"I found this program extremely motivating and exactly what I needed to kick start my new healthy life style. If you could pass onto the donor that I have basically gone from the occasional bike ride to at least five hours of either walking or biking or a combination of both, weekly. I have purchased an elliptical trainer and I am hoping to use it with my bike and rower once the seasons change. I have also joined an online fitness group and log on and track food and exercise daily. I am actually feeling fantastic but of course still have quite a ways to go but feeling positive about my journey. Please thank the donor. I truly appreciated the opportunity and have actually enjoyed the program. I look forward to continuing on my journey," offered one participant.
"I would like to take this opportunity to thank the donor. What a great rewarding challenge. I hope I have made progress, I was walking eight kilometres a few days a week but then I got a second job and found myself always working or extremely tired when I did have half a day off. I truly believe this was a great momentum to those trying to achieve a weight loss goal. And it benefits the hospital too what a win win situation. Love it," said another participant.
The total number of pounds lost translated to a $5,625. donation to the Meaford Hospital Foundation.