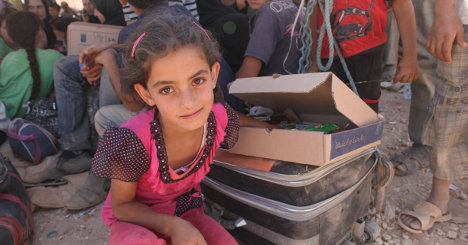 Meaford's military base is among several in Ontario and Quebec that are preparing to receive Syrian refugees as part of the Canadian government's commitment to receive 25,000 refugees before the end of this year.
A spokesperson for the Department of National Defence said in an email that both CFB Meaford, and CFB Borden, near Angus are "two locations that will require winterization of accommodations and preparation is currently underway," according to national news reports on Friday November 20.
The CBC reported that "The Canadian Armed Forces (CAF) is currently planning on providing interim lodging at bases in Quebec and Ontario as a priority".
Earlier this month a grassroots volunteer group in Meaford began working to bring a Syrian refugee family to Meaford, and they have been receiving significant support from the community, raising more than $10,000 of their $25,000 goal just days after announcing their initiative.
Cathy Miller, the minister at Christ Anglican Church in Meaford, said of the local initiative, "There is an overwhelming humanitarian crisis in the Middle East. Almost 4 million people are currently living in refugee camps in Lebanon, Turkey, Jordan, Iraq, and Egypt. Our aim is to bring a family of up to six people to Meaford, support them for a year, and help them get on their feet for their new life in Canada."
The group made a presentation to Meaford's council at their November 9 meeting. Earlier this year council approved a resolution identifying Meaford as a "caring community where newcomers are warmly welcomed with the essential services, and the quality of life that sustains families and presents opportunities for successful resettlement," and council encouraged " a collaborative grass roots effort working with our neighbouring community groups to assist with the settlement of refugees in our small town and rural communities."
How many refugees, and when they might arrive at Canadian military bases, including in Meaford is unknown at this time, however the Department of National Defence said today that more information would be available in the coming weeks.