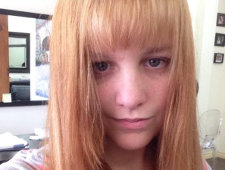 A 16 year old Meaford girl who had been reported missing earlier Tuesday (August 19), has been found and is now safe at home according to police.
"Shawna Kaus, age 16, has been located in Meaford and returned home safe and sound. Grey County OPP wish to thank the public and the media for their assistance," said the OPP in a media release.
Shawna's mother, Cheryle Shepstone-Kaus, contacted police and local media on Tuesday morning seeking assistance in finding her daughter who she said had last been seen in Meaford on Sunday afternoon.
"She is 16 and was last seen in Meaford August 17th around 1 pm. If anyone had any information they can call the police. If you could please make sure to say that she's not in trouble that people are concerned for her safety," Cheryle Shepstone-Kaus, Shawna's mother, told The Independent Tuesday morning.
"She is definitely not a run away as she left the most important things a teenage girl would take like makeup, brush, iPod charger. It's been almost 48 hours since anyone has had contact with her."
Mom was relieved to have her daughter home on Tuesday evening.
"She is home safe and sound. We appreciate your help more than you will ever know. Thank you again," Shepstone-Kaus told The Independent in a Facebook message.